The special event "Craft making for the season!" was held on December 18th!
A multicultural child-rearing salon event sponsored by Aichi Prefecture was held by Bunpappa.
The 6th time, we made a winter season craft play by online.
School and kindergarten will be on winter vacation soon.
And Christmas will come soon, so it's an exciting time.
This time, we made and played "Fukuwarai", a Japanese New Year's play, with people from various roots.(* Fukuwarai is one of the Japanese traditional games people play on New Year day.It is a puzzle of a human face, and a player has to do the puzzle wearing a blindfold.Since players cannot see which part of the face is on the piece of the puzzle, the face made up by the player is usually quite unique like having a nose above eyes.People enjoy playing this game.)We started with the usual song, ♪ Let's start, Let's start ♪
Let's learn Japanese while playing games.
The typical faces used in "Fukuwarai" are "Okame" and "Hyottoko"(both are traditional masks's design of smiling face and funny face.).
In the picture book "Masks", animals wearing masks unique to Japan, such as Okame, Hyottoko, and Daruma-san, will appear.
We did a warm-up game to find what kind of animals are hiding.
Which mask did you like?
After the picture book was an online game! Okame's face(smiling face) was on the online screen.
It has no eyes, nose, or mouth. But these face parts were around on the screen.
This is … eyes! This is … nose!
Searched and placed the each parts on the Okame's face based on everyone's "Stop!" voice.
Everyone laughed at the completed Okame's face.
Both the older sister in elementary school and the small child who had just learned the language were able to play together in Fukuwarai.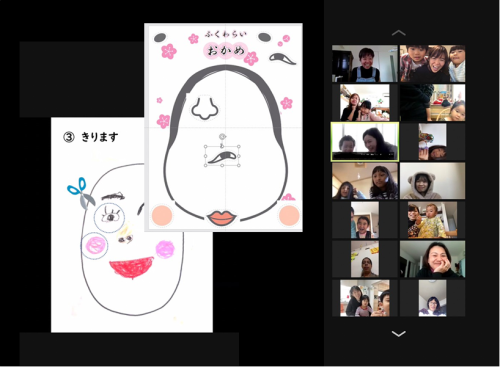 Creative activity with parents and children Handmade "Fukuwarai"
After the game, we challenged to create the handmade "Fukuwarai".
Even the small children who couldn't use the scissors did their best with the help of their mom!
The children who can use scissors proceeded the creation more and more by themselves.
There was also a face that looked exactly like a popular character in anime.
It was really good and surprised.
I introduced it as one of the New Year's games, but it's a play where you can always laugh a lot and get better with anyone. Please enjoy it with your family.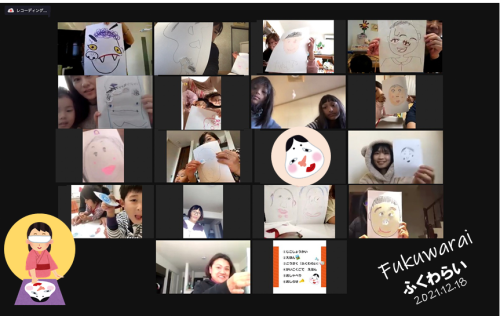 Year-end special read aloud in Taiwanese.
In addition to parents and children who participated from the Kanto area, there were also participated online from India and Taiwan. People who used to live in Toyota City and Aichi Prefecture still come to visit us like this.
That's why, as a special gift at the end of the year, I asked Mr. P, who participated from Taiwan this time, to read aloud in Taiwanese! This is the Taiwanese version of "Wanisan Doki, Haishasan Doki" by Japanese picture book writer Taro Gomi. It is a picture book that makes you want to say it together because it repeats the same phrase with good rhythm.
It was a very valuable opportunity to have a native speaker read a picture book. Thank you, Ms. P 
It's a small world!
The last was a chat time to get to know each other better. This time, the roots of 10 countries including Japan and a wide variety of people participated, so even in a small room divided by a small number of people, we enjoyed chatting in a relaxed manner. With this as an opportunity, I found out that the people I met for the first time had a common acquaintance, and I could directly hear the recent situation of moms in Taiwan and India. It's time to feel "It 's a small world!"
*Please note that the picture books used for storytelling are not included in the images due to copyright issues.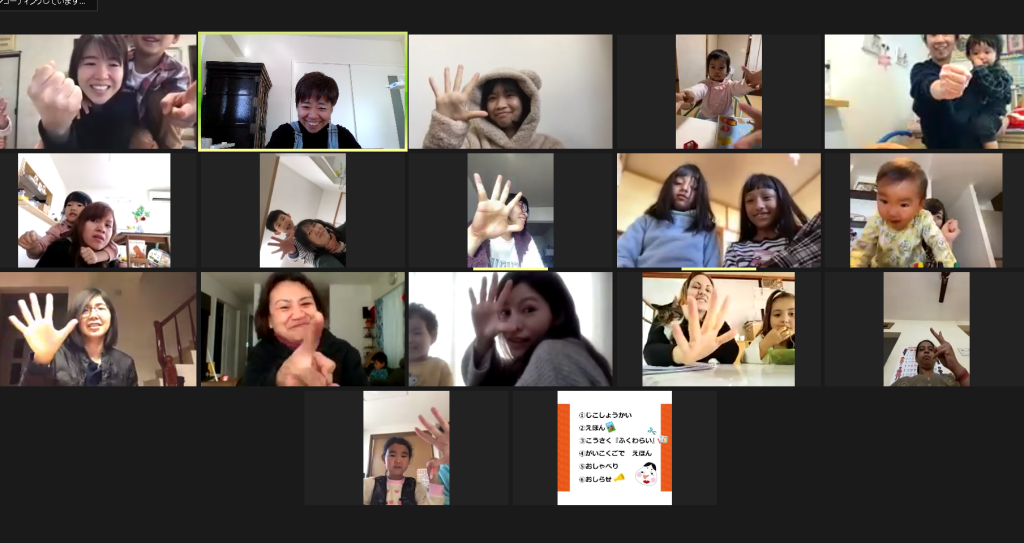 The next special event will be held on January
The next special event will be held on January 15th(Sat) 10:00- by zoom online.
"Let's dance with babies"
→https://forms.gle/vC29TcyRHQ8B4efL6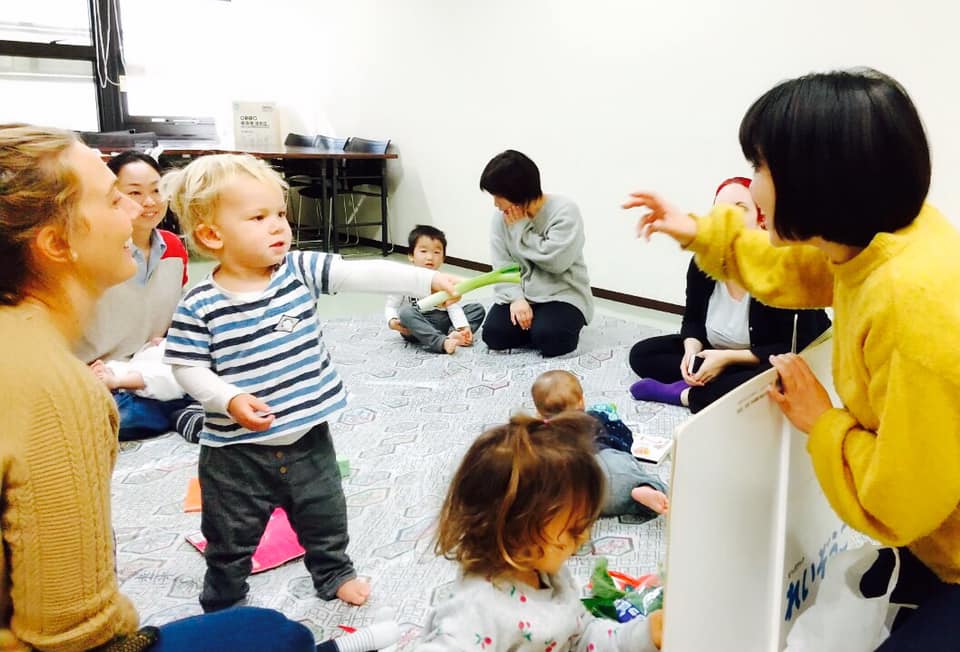 Now there are many kids & parents from all over the world (Brazil, China, India, Pakistan, Mongol…etc) enjoy the class. Japanese kids & parents are also welcome.
Let's enjoy many countries cultures with your kids!