Information about our second event of multicultural child-rearing salon.
Let's play with a nursery teacher on 21st August.
We hope you enjoy this with your kids!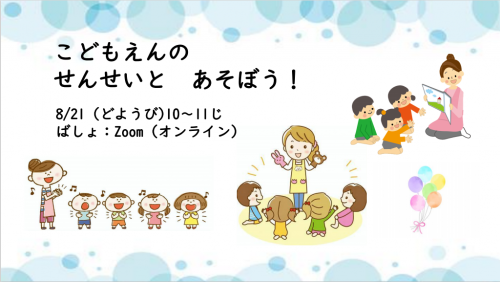 Enjoy singing and finger play with them!

What kind of place is a

KODOMO-EN

?
Let's see our friends' photos and know it!
Theme
<にほんご>
こどもえんの  せんせいと  あそぼう!
英語、ポルトガル語、中国語、ベトナム語のサポートがいます。
<English>
Let's play with nursery teacher!
We have Portuguese, Chinese, Vietnamese and English supporters.
<Português>
Vamos brincar com a professora!
Temos intérpretes em Português, Chinês, Vietnamita e Inglês.
<中文>
我们有主题为"跟老师一起开心玩耍"的
我们提供相关的葡萄牙语、英语、越南语和中文翻译服务。
<Vietnamese>
Bé chơi cùng cô giáo!
Chúng tôi có những người nói tiếng Bồ Đào Nha, Trung Quốc, Việt Nam và Anh.

Details
日時/Timing/Horários/时间/Thời gian tổ chức;
2021年8月21日 土曜日 10:00 〜11:00
   21/8/2021 Saturday 10:00-11:00
場所/Location/Local/地点/Địa điểm;@zoom
参加費;無料!
    FREE! No participation fee!/
    Sem taxa de inscrição/无参加费/miễn phí
申込み/Application/Aplicativo/应用/Đơn xin;
https://forms.gle/gnUpiUuhSfjdVgtPA
About us
人と繋がる力を育てる、多文化交流を大切にしたサロンです。
日本語が話せなくても大丈夫!みんなで一緒に遊ぼう!
<English>
The salon develops an ability to connect with people & values multicultural exchange.
Don't worry about your Japanese skill at all! Lets have fun together!
<Português>
O salão desenvolve habilidades de conectar com pessoas & valores de intercâmbio multicultural.
Não se preocupe com seu nível de Japonês! Vamos nos divertir juntos!
<中文>
这是一个重视培养人与人之间的交流,并且重视多文化交流的沙龙组织.
如果你不擅长日语也没关系,我们也可以一起快乐的度过美好的时光!
<Vietnamese>
Cộng đồng phát triển khả năng kết nối với mọi người và coi trọng sự trao đổi đa văn hóa. Đừng lo lắng về kỹ năng tiếng Nhật của bạn! Hãy cùng nhau vui vẻ!
主催
愛知県
文化庁 令和3年度 地域日本語教育の総合的な体制づくり推進事業活用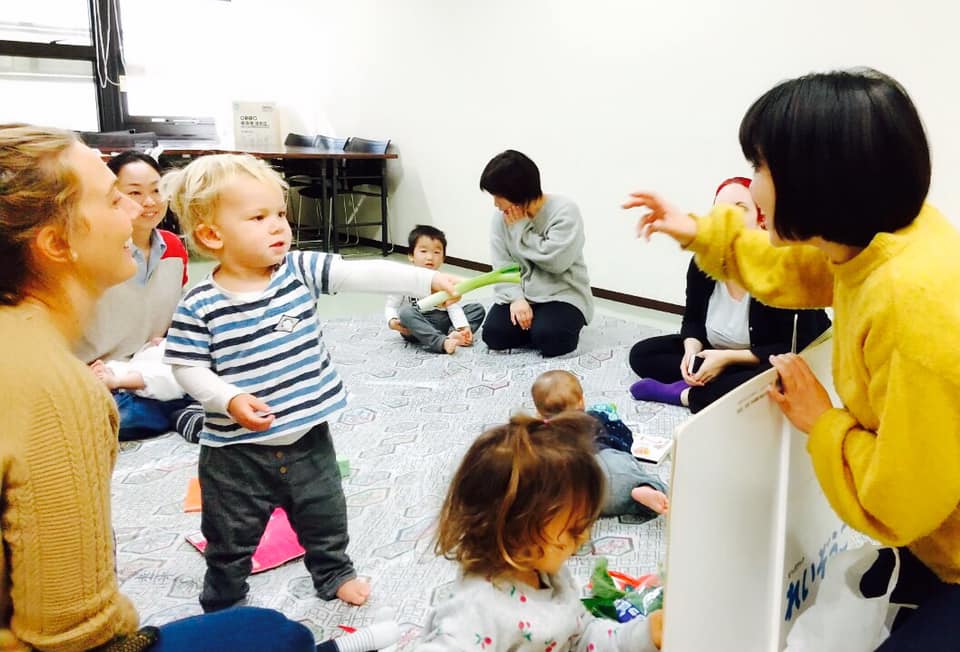 現在は、ブラジル、中国、パキスタン、インド、モンゴルetc…様々な国籍を持つ親子が参加してくれています。
日本人親子も大歓迎。一緒に楽しく多文化子育てしましょう!